Blooming orchards in the Yakima Valley are a sight to see this time of year.
But seeing asparagus spears in a field? It's enough to make your mouth water.
April through June is asparagus season in the Valley, and for many it's the only time of year they enjoy the polarizing vegetable.
Some people love asparagus, others hate it. There doesn't seem to be much of an in-between. Sure, you could cook it yourself in one of several ways, but there are plenty of local spots that feature asparagus on their menus only at this time of year.
Battered and deep fried
Stokes Burger Ranch, 706 Yakima Valley Highway in Sunnyside, has been serving fried asparagus since 1982.
"There was a local farmer who kept suggesting we do fried asparagus, and you know, it just kind of took off from there," said David Stokes, owner of Stokes Burger Ranch.
Stokes suggests it pairs best with their signature fry sauce.
Until about 10 years ago, Stokes Burger Ranch created mock wanted posters of customers who ate fried asparagus. Each year, people signed their names and where they lived to be included on these lists.
Stokes Burger Ranch has remodeled the restaurant, and Stokes said he has more than enough posters to cover the walls and then some.
Though the restaurant serves the seasonal item year-round, the demand for fried asparagus is always highest in April through June, when it's fresh and local.
Major's restaurants, at 1902 S. Third Ave. in Union Gap and 1705 W. Lincoln Ave. in Yakima, serve beer-battered fried asparagus as a side, but manager Carrie Calhoun says it's good on its own.
A serving from Major's weighs in at half a pound. Calhoun suggests dipping in their ranch sauce.
Pupusas
Don Mateo, 704 Wisconsin Ave in Tieton, creates El Salvadorean and Mexican cuisine.
A pupusa is a masa griddle cake, consisting of a combination of beans, meat and cheese.
During this time of year, Don Mateo's showcases an asparagus pupusa. Masa encases locally sourced asparagus and melty cheese. It's then grilled on a flat-top, creating crunch and flavor.
An asparagus pupusa is served with curtido — a cabbage slaw — and salsa. Ordering two or three makes for a filling meal.
smoked asparagus
Some asparagus preparations can turn a nonbeliever into a fanatic.
Kim's Got Smoke, 2319 Rudkin Road in Union Gap, has been smoking asparagus for the past two years and destroying asparagus disgust in the process.
Local asparagus is cut fresh and loaded into trays. Sprinkled and seasoned with a homemade blend of spices, the asparagus is smoked for up to two hours.
Last year, Kim's Got Smoke served more than 600 pounds of asparagus, said owner Don Mittlieder.
"We had a lady on Saturday come in and she said, 'I really don't like asparagus. I just don't like the texture of it.' I said, 'You want to try this,' and she did," Mittlieder said. "Her husband got an order, and she got an order. So, it hooks the people that don't like asparagus, too. That makes us feel good."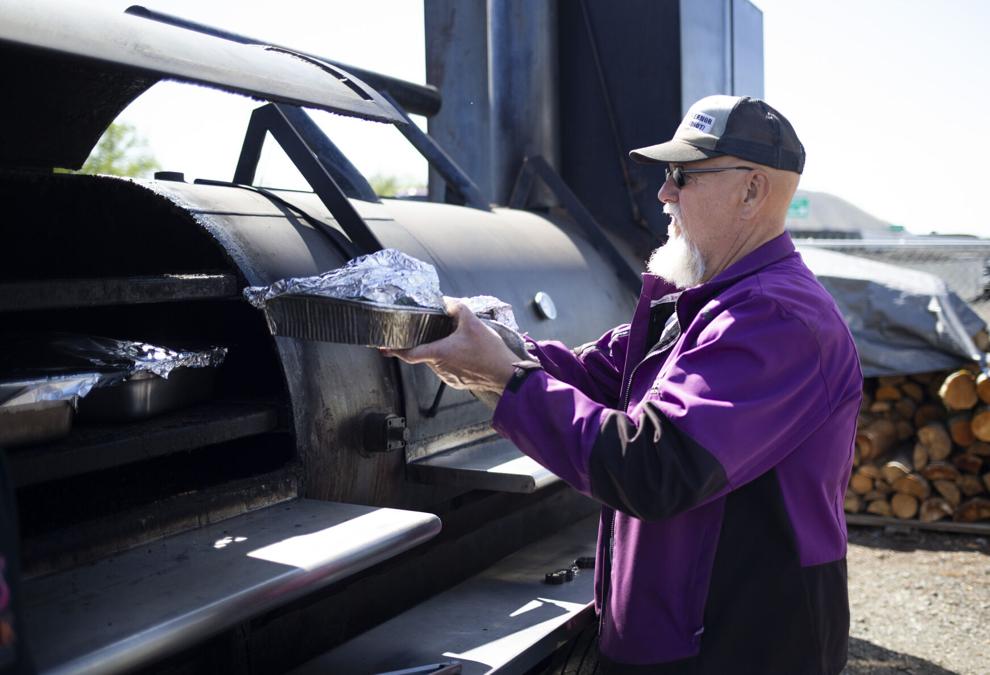 Smoked asparagus is a great side alongside all the meats at Kim's Got Smoke, but Mittlieder suggests pairing it with a pulled pork sandwich or ribs.
Pizza
Pizza and beer are an easy combination to enjoy. Two local places have made asparagus and pizza a seasonal pairing worth the wait.
Bron Yr Aur, 12160 US Highway 12 in Naches, serves locally grown asparagus on pizza that pairs well with a number of their beers.
The seasonal pizza from Bron Yr Aur comprised of Alfredo sauce, mushrooms, Italian sausage and asparagus. And it is only available when asparagus is in season in the Yakima Valley.
Hoptown Wood-Fired Pizza, 2560 Donald-Wapato Road in Wapato, creates a pizza featuring asparagus and hops, another famous Yakima crop.
All About Gus is an oil-based pizza with roasted, fresh asparagus. It's topped with green onions, bacon, goat cheese, house seasonings and hops.
And of course …
At Los Hernandez Tamales, 3706 Main St. in Union Gap and 6411 W. Nob Hill Blvd. in Yakima, asparagus and pepper jack cheese are combined with masa to create their seasonal treat.
It's a Yakima Valley classic.
Sure, we can make asparagus on our own, sautéed in butter, steamed or grilled. But why deprive ourselves of these spring-exclusive items made by local restaurants?
.